Annual Retreat
Our next big annual weekend long shoebox retreat is April 27, 28, 29 2012.

Download the Registration Form!


Pennywise Arts "Shoebox" Retreat

Payment Options


PWA 2011 Round Up Retreat Recap
It's hard to believe that another retreat has come and gone. This was our 7th event celebrating our 7th year in the bead biz. Wow!
Twenty-two ladies converged on The Big House Lodge in Cle Elum, WA where the accommodations were just perfect for our crafty gang. Everyone loved the sleeping wing that was secluded and quiet.
Chowtime was fun! We had a mess hall that could seat us all together separate from the rest of the house. Having the meals catered was new for us and we definitely plan to do that again! Jorge and Vicki Chow really did a nice job and we were all well fed. Thank you!!
Then there was the great room which we decked out for a weekend of shoebox projects and kept open 24 hours a day. Some crafted through the night to morning light!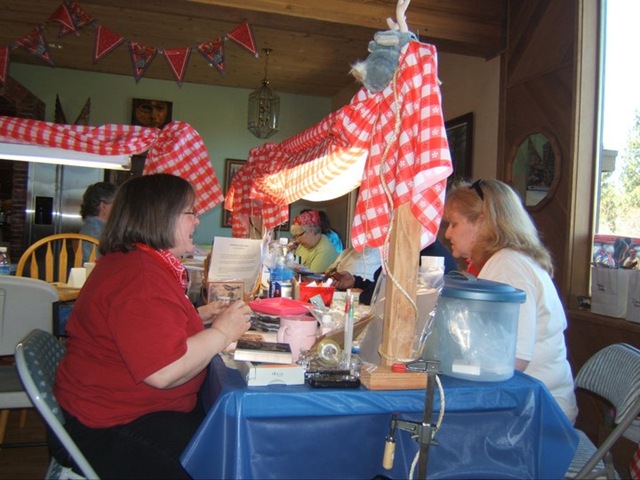 What girls only event would be complete without a SHOPPING trip? Even a tiny town like Cle Elum has it's own rubberstamp and scrapbook store! Ruby of Ruby's spoiled us all rotten with yummy treats, a store discount, goodie bags AND a very generous gift basket donated to our event and awarded to Kris D.! If you're ever in Cle Elum, WA Ruby's is a must stop store!
Entertainment seems to happen spontaneously with this group of gals and the echoes of laughter rang throughout the house all weekend long.
Great food, great fun and great projects made for an amazing and memorable weekend! Thanks to all who came to spend the weekend with me!!
Hope to see ya'll next time!

Frequently Asked Questions
Q. On what day do most people arrive? Do they arrive the day before and get a hotel so they can rest up?
A. Some people arrive early to go sightseeing (if they are coming from out of state), some arrive on Friday afternoon - your travel schedule is totally up to you and what you want to do. Accommodations are only provided for Friday and Saturday nights of the retreat.
You will need to connect on your own with friends in the area directly or through PWA Yahoo group posts to arrange rides if they are needed. There are LOTS of local members willing to help you, but you will have to ask for what you need.
Q. On what day do most people depart? The day it ends do they go to the airport?
A. Some people leave on Sunday night, others will stay a few extra days for individual shopping and sightseeing trips.
Q. What is the weather like up there that time of year?
A. Spring in Washington can go either way - might be short sleeve weather, might be cold and rainy. Bring a sweater/sweatshirt and a light jacket with a hood and you'll be covered!


Q. When and how do you pay? - I need to start saving - I'm no rich person you know :)

A. Start saving now! The price INCLUDES all your meals, your room, EVERYTHING except for travel costs. We are happy to receive payment installments and all payments must be received in full by the due date on the registration form.
Q. When do we find out about the projects we need to start working on?
A. You can start planning your project NOW! If you need more information on the "what" of a shoebox party, you can visit our event page of the website where there is a link that explains IN DETAIL what you need to do! Think SIMPLE - something that will take only 10 to 15 minutes to complete and plan for 30 people.
Q. Do we bring our Basic Supply Kit with us?
A. Yes, you will want to have a few basic supplies with you for the weekend! While all the projects should provide the essentials, many find it more convenient to have their own scissors and extra adhesive with them!
Q. Do our projects have to be related to the theme?
A. Nope - they can be whatever you want them to be - just KEEP THEM SIMPLE and within the 10 to 15 time frame.
Q. Will there be an ATC swap?
A. Yes, the total amount to make will be announced on the date noted on the registration form, once all registrations have been received. 30 would be the maximum and they must be related to the retreat theme.
Q. Will there be any free time?
A. Yes! The entire weekend! You are totally at choice as to what you want to do and when - the only exception is meal time, those are set. Don't bring extra things to work on during the weekend, you won't have time to do them if you plan to do all of the projects!
Q. What is a Shoe Box Party?
A shoe box party is a gathering of crafters where each person brings a project to share with all the others. Each guest brings a project and all the supplies needed to complete that project in a "shoe" box. During the party, the boxes are passed around between the guests and when the party is over each guest has completed a number of fun and creative projects.
Choose a project to share. Anything goes! Just remember that the guests must be able to complete your project by looking at the completed example and following the printed instructions, you will not be able to do a demo or give live step-by-step instructions.
Complete a sample of your project. Print out detailed step-by-step instructions for guests to follow. It's helpful to put your name on the instructions so that other guests know who it came from. It's nice to provide a copy of the instructions for each person, but not necessary.
Pre-prepare all the parts of your project. This includes pre-cutting all paper pieces and scoring/folding as required. The only thing guests should have to do is stamp and assemble the project. Place all the paper pieces into a plastic zip lock bag to keep them clean. Be sure to include extra paper pieces in case someone has a stamping boo-boo. Prepare enough parts so that each guest will be able to complete one of your project.
Place the project parts along with all other supplies needed (scissors, stamps, ink pads, embellishments, glue/adhesive, tools, etc.) into your shoe box along with the completed example and the printed instructions. Remember: Each guest will make an exact duplicate of your project. Only put in the shoe box the items needed to duplicate your example.
Please be sure to label all of your supplies with your name, just in case they get separated from your shoebox.

Testimonials
Debbie W.
I've traveled all around the U.S. attending art retreats, and without question, the PWA retreat is the most fun. It's not just the projects (which are outstanding) but the friendships formed that make it so special. It is SO worth it! It really is a party, like having a sleepover with your closest friends. If they weren't friends before you got there, they will be when you leave! I had never rubberstamped before my first PWA retreat, and now I am totally hooked. The support of all the women there was just an incredible experience.
Michelle Mc.
That it's an awesome experience to be there for an entire weekend, to meet new friends and see old ones. And the setting of getting away from every day life to craft 24 hours a day without little ones pulling at you; or looking at the dishes in the sink; or having a boss look over your shoulder is a treasure in itself!! Sleep, eat, chat, craft for the entire weekend.....and no pressures to get "all" the projects done, work at your own speed and abilities, and know that you are in the safety of friends who do nothing but encourage and strengthen you. Plus by working on so many projects that other have created, you get to have the hands on knowledge of working with new tools and products that you otherwise have never used before. (Then rush out and buy them all after the retreat because you simply "have to have them!" lol! Seasoned stamper or not, long time friend or new...this is the place to be! Friendship and stamping all packed in a little shoebox!
Michele A-Z.
I was so scared, but I really wanted to go!!! I would have to fly from San Francisco to Seattle in order to get there, which doesn't sound bad, but it was for me! I had never flown ALONE and I had never been out of the San Francisco Bay Area ALONE! I traveled extensively, but always with my husband, family, or friends. I was all about panic. I couldn't believe I was contemplating going to a retreat with strangers that I had never "met" before. After many, many emails of encouragement from the group, I had to make a decision. So, I put on my "big girl panties" and I registered for TWLSBP! It was the BEST thing I ever did for myself! :-) When I got there, I was met by friends, NOT strangers! I LOVED every minute of it! I met the most amazing artists, I worked on the most creative art/craft projects, and I made some long lasting friendships - all in one jam packed, fun filled weekend! Looking back now, I can laugh at myself. I don't know why I was so scared! Everyone was wonderful! All of the ladies were friendly, outgoing, and helpful! I had a wonderful time, won cool prizes, learned new techniques, and spent the entire weekend creating art! What could be more fun?
Julie I.
2010 will be the fifth time I'm fortunate enough to participate in this wonderful weekend retreat. Before attending my first time in 2006, I had only met a handful of the participants. Within the first 30 minutes of registration I was meeting many more ladies and forming the start of some lasting friendships.
This group is very diverse… ...some are long time stampers and instructors, some are new to the craft, and all sorts of artistic styles are represented ...a broad range of ages, backgrounds and locations people live is also represented. ...although we are all very different, our common interest in stamping, paper, creating, learning and sharing bridges whatever gaps there may be between us all, and we become unified in the goal of each having a weekend of enrichment. This is a supportive group, and you are able to pursue the type of individual experience you want to have. I found it nice to put aside my roles as mother, wife and part-time employee to just relax and "play" for the weekend! The location is near enough to Seattle to provide the chance to explore the city before or after the retreat. The setting for the retreat itself is ideal, in secluded and beautifully wooded grounds which also provides opportunity for quiet rest and outdoor walks. I have attended many PWA events and the food served has always been excellent. Along with as much stamping as you could hope to fit into one weekend, participants are sure to laugh, play and explore their creativity all in a friendly, supportive and relaxing atmosphere.
Sue L.
What the retreat is and means to me is mostly summed up in the word retreat itself. It is a treat to meet with friends and create something to share. I get to re- treat myself to the memories year after year as I re-live thoughts, themes, and use and share all the beautiful things we've created. These events have allowed me to retreat from the emotional rollercoaster of personal tragedies and health issues and be renewed in the love, caring, and sharing of the fellowship of other women creating beautiful art. I look forward to seeing old friends and making new ones.
Pam F.
I have been a member of the PWA yahoo group for many years and last year I flew from my home in Sydney Australia to Seattle in order to attend this retreat for the first time. WOW with a capital W O W. What a fabulous weekend of stamping , making new friends and learning new techniques. It was so much fun. The venue is ideal for this type of event and the catering superb. Suzanne and her helpers put on a fabulous fun weekend which was enjoyed by all. I'd love to do it again one of these years!