Classes
About PWA classes:

Founded in 2003, Pennywise Arts is a worldwide distributor of glass no-hole micro beads. Owner Suzanne Glazier enjoys inspiring customers and students with a myriad of creative possibilities. Suzanne is known for her high energy, interactive and unique classes which always incorporate innovative micro bead techniques. Class projects are carefully planned so that even the most seasoned students will learn something new. Patient and encouraging, beginners thrive in Suzanne's classes. She gives them the confidence they need to take what they learn and apply it at home .

Classes can be taught in store classrooms, as a private event at a residence or at Suzanne's home studio in North Bend, Washington. Suzanne recognizes the importance of supporting the stores that invite her to teach and will share her extensive knowledge and experience with students to help a store sell any products used in classes and more!
Classes Available:
(Click on a class to see the description)
Graphic 45 Gallery Shaker Cards
Surprise Inside Shaker Cards (Advanced*)


Imagine My Surprise Box
Created from scratch (and packing tape cores) this interactive pop up box can be personalized in class for any greeting, name or power word that students desire. Actual colors may vary from photo but store will receive a sample box with the exact colors that will be used in the class. Allow 2.5 hours to complete.

Price $25
5 student minimum

Students may pre order additional kits to take home for $10 each.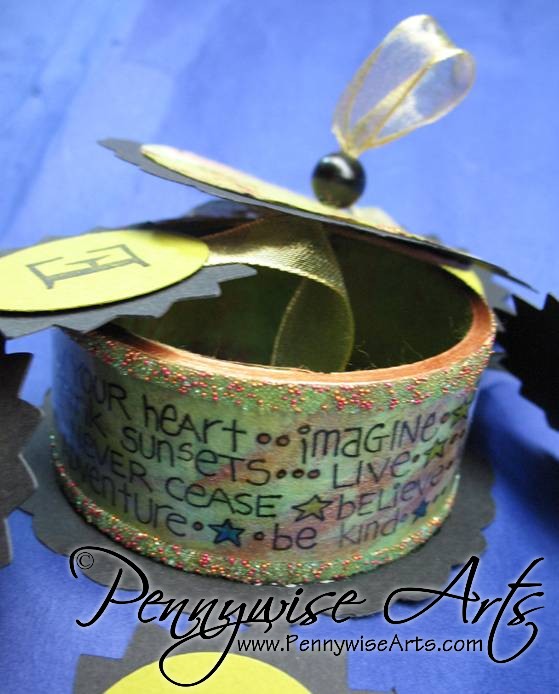 Floral Frenzy
There is nothing imitation about these paper roses! Incredibly durable and easy to make, it's a given that students will be addicted to this inexpensive technique in a blink of an eye. Using a wide variety of inks we will explore learning several different techniques for dyeing the paper. This will be followed up with stamping ideas for turning these colorful blooms into gift bows or even greeting cards! (Stores will receive these samples in advance to help sell the class.) Students can expect to take home at least 5 completed flowers with supplies to make several more at home. Allow 2 hours to complete.

Price $25
5 student minimum



A NOTE ABOUT SHAKER CARD CLASS SUPPLIES:
All supplies needed to complete the class are provided however students will need to bring a basic tool kit to class that includes a ruler, scoring tool (or Scor-It board) and a Fiskars "track type" paper cutter. A cutting mat with straight edge metal ruler and sharp Exacto knife can be easily substituted if a track type paper cutter is not available.

The Four Seasons Shaker Cards
Everyone loves shaker cards! They are easy to make and fun to receive. "Super Simple" templates from Pennywise Arts makes the process quick and crisp. Students will be guided step by step in the creation of 4 different shaker card designs using 4 various sized templates including the ever popular atc sized shaker.

Price $25
5 student minimum



Graphic 45 Gallery Shaker Cards
Using gorgeous Graphic 45 papers students will create these 4 stunning shaker cards. "Super Simple" templates from Pennywise Arts makes the process so quick and easy!

Price $25
5 student minimum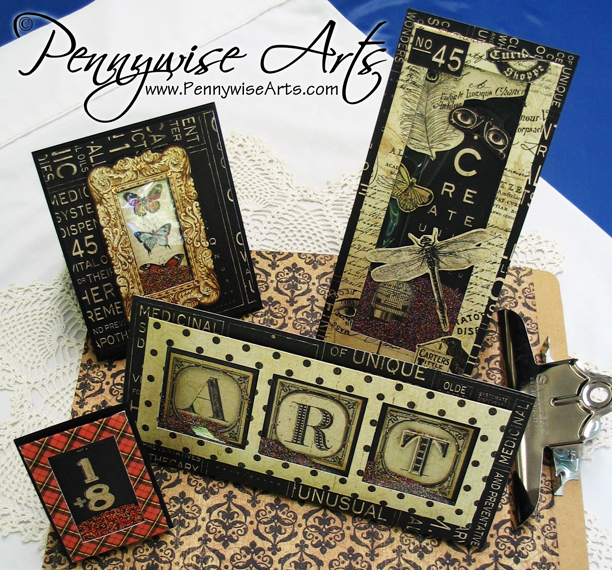 Surprise Inside Shaker Card (Advanced*)
This unique shaker design features a "surprise inside" - a pop up window with micro beads floating over an image inside the card. Two cards will be completed in 2.5 hours of class.
* Taking the beginner's class prior to this one is highly recommended. The advanced class assumes that students have already used the Pennywise Arts method of creating shaker boxes.

Price $25
5 student minimum



ATC Card Production Class
Each month a different design/technique will be featured. In this 3 hour class students are coaxed into high gear to create a set of 10 identical cards that are 3.5" by 2.5" in size, perfect for artist trading card (atc) swapping! If you love to swap artist trading cards and just need some motivation and inspiration THIS is the class for you! Various bead techniques will be taught.

Price $25
5 student minimum



Miniature Watercolor Gallery
In this simple water color basics class students will discover their inner "Impressionist" while creating a mosaic of miniature "canvas" like pieces. This 3 hour class is divided into 3 sections. The first is free flowing with brushes, color and water. (No experience necessary). Next is hands on color coordinating of paper layers to match each student's own "gallery" set. The last segment of class is devoted to turning our masterpieces into finished greeting cards, complete with envelopes.
Students can expect to fully complete 3 to 6 cards in class depending on each individual pace. There will be lots of parts and pieces left over to make several additional cards at home.

Price $35
5 student minimum

Students will need to bring a basic supply kit to include a ruler, stylus and bone folder or a Scor-It board.
Students may wish to bring a heat tool and a water brush or paint brushes of miscellaneous shapes and sizes.

Beautiful Bottle Cap Pendant
Using supplies from Pennywise Arts and Bottlecap, Inc. we will complete 5 pendants of different design in about 90 minutes.
Class kit includes ball chain and beautiful clear lid gift boxes for all 5 pendants.

Price $25
5 student minimum



Handmade Paper Stars
These incredible three dimensional stars are over 13" across and are made completely of paper! Learn how easy it is to create one of your very own with templates from Pennywise Arts! Students will be given additional templates to take home, including bonus pages with a variety of star sizes.

Class time is 2 hours and costs $28 per person.

Students may wish to bring their own basic supply kit with scissors, cutting mat and craft knife to reduce any waiting time for shared materials.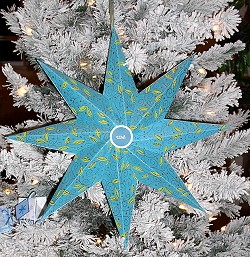 Micro Bead Madness
Whether you have lots of experience with micro-beads or are just getting started, this class will teach the basics of how to add micro beads to any artwork. Students will complete five projects in this 3 hour class: Simple Shaker Card, Beaded Card, Shaker Tag, Beaded Pen and a Post-It Note Purse.

$28 per person.

Students may wish to bring their own basic supply kit with scissors, cutting mat and craft knife to reduce any waiting time for shared materials.